Georgia Safety Promise
Show your guests you Are committed to their safety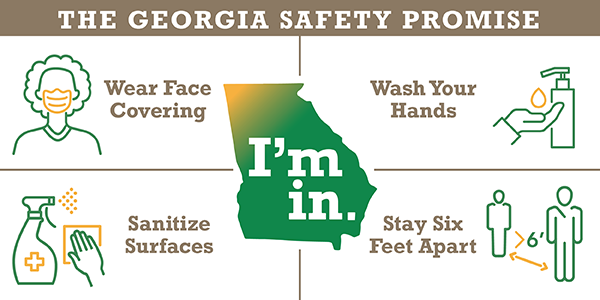 What is the Georgia Safety Promise? It's a statewide campaign from the Governor's Office and the Georgia Department of Health that encourages businesses and the public to agree to simple, but critical, measures that will keep Georgians safe from COVID-19, minimize spread of the virus, and keep Georgia open for business.
By committing to the Georgia Safety Promise, you are making the decision to take steps to keep yourself safe and protect others during COVID-19. And when you make the promise, you'll have access to materials so you can share your commitment with your customers, friends, and family.
To See Who Has Made the Georgia Safety Promise, click here.
Gov. Kemp Launches "Safety Promise" Campaign To Urge Georgians To Heed Public Health Guidance