GRA Foundation Golf Tournament

Monday, October 25, 2021 | 11:00AM - 6:00PM
The Standard Club, Johns Creek, GA
Join us on October 25th at The Standard Club for the 1st Annual GRA Foundation Golf Tournament. Have fun, network and perfect your chip shot as we take to the golf course to raise funds for the GRA Foundation, the only 501(c)3 non-profit foodservice foundation dedicated to investing in our youth and workforce in Georgia. Your participation will help support ProStart® and enrichment opportunities like mentorships, job-training, training for teachers, and scholarships.
WHAT IS PROSTART®? ProStart® is a nationwide, two-year program for high school students that develops the best and brightest talent into tomorrow's industry leaders. From culinary techniques to management skills, ProStart's industry-driven curriculum provides real-world educational opportunities and builds practical skills and a foundation that will last a lifetime. This year, the GRAF is focused on providing over 2,100 young people the skills to land their first job and go to college. We change lives through restaurants. It all starts with a goal and a passion for the food industry. Your support in this golf tournament will allow us to continue to attract, empower and advance the next generation of leaders in the foodservice and hospitality industry in Georgia.
TOURNAMENT PLAY. This is a best ball; par is your friend, scramble format, played on one 18-hole course. This is an all-inclusive event providing food and beverages, along with an awards dinner at the clubhouse following play.
SCHEDULE OF EVENTS.
11:00AM - 12:30PM Registration, Lunch, Driving Range
1:00PM Shotgun Start
5:30PM Awards Dinner
QUESTIONS OR INTERESTED IN SPONSORING? Contact Sarah Thorson to learn more.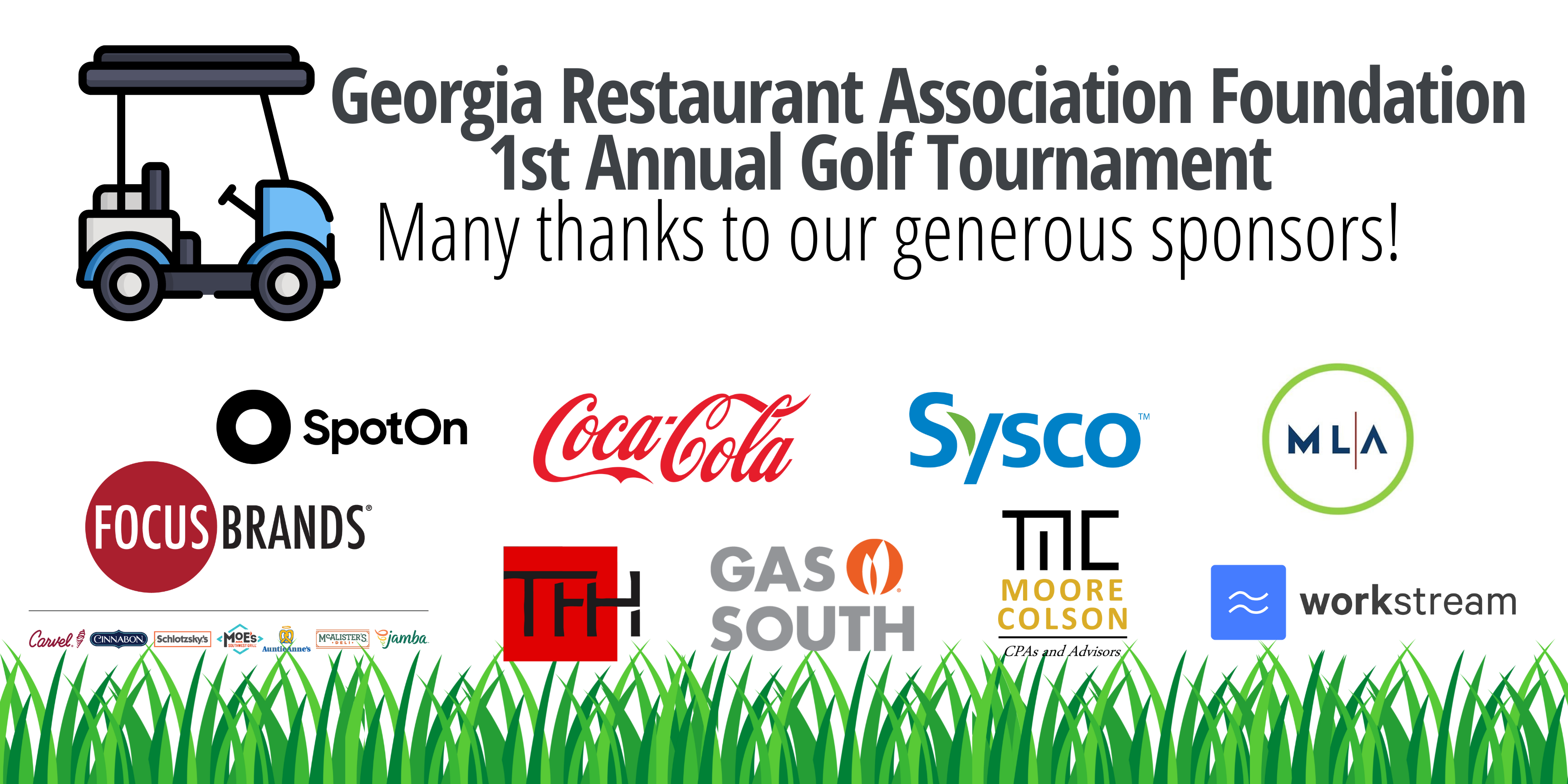 REFUND POLICY. The deadline to receive a refund for your ticket purchase is 9/25/2021. Refunds are subject to a $100 administrative fee. Cancellations received any time after 10/10/2021 will not be eligible for a refund. Refunds will not be eligible for guests who choose not to attend the event. Cancellations must be received in written format, via e-mail to Sarah Thorson.

WEATHER POLICY. The GRA Foundation Golf Tournament will take place rain or shine. In the event that weather or other unforeseeable conditions are deemed by Event Organizers and/or City Officials to be potentially hazardous to participants and volunteer, the organizers reserve the right to postpone the start time or cancel the event outright. Cancellation of the event may take place either prior to the start of the event or at any time while the event is taking place.