Back to Events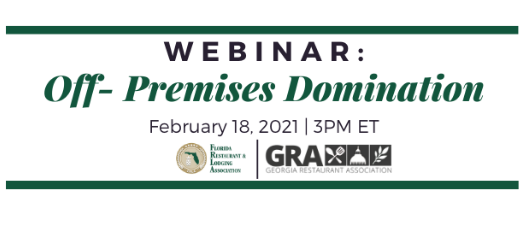 Off-Premises Domination
Thursday, February 18, 2021
Event Details

Off-Premises Domination
Thursday, February 18, 2021 | 3PM ET
Frustrated with a lack of off-premises results?
Tired of hearing about others' sales success in off-premises?
Struggling with where to start?
IF SO, LEARN FROM THE CREATORS OF THE OFF-PREMISES DOMINATION!
This webinar will walk you through the 11-point 'Off-Premises Accelerator' plan that includes proven products, tactics and technologies to create a cost-effective, sales-driving off-premises system including curbside, takeout, delivery and yes, even catering (it is alive!).
This program has been created by long-time speakers, consultant and multi-unit operators (and co-hosts of the 'Takeout, Delivery & Catering Podcast'), TJ Schier and Sam Stanovich. Learn the best practices in menu, packaging, ordering, marketing and hybrid delivery (just to name a few) to thrive in today's environment all while creating a superior experience for your guests.
STAY UNTIL THE END OF THE WEBINAR TO BE ENTERED IN TO WIN TJ'S 3 BOOK PACKAGE!
SMART Restaurant Guide to: Effective Foodservice Operations – 25 keys to becoming a more effective operator to build sales, your team and the bottom line!
Recruiting & Selection – The book focuses on the key processes and systems to effectively hire talented restaurant employees and managers to ensure a proper skill and cultural fit within your restaurant.
Catering Domination – roadmap of strategies and tactics to generate qualified leads, nurture those leads through the sales process and then figure out how to produce all those catering orders at 100% accuracy!
This webinar is presented by the Florida Restaurant & Lodging Association and the Georgia Restaurant Association.
Speaker: