Back to Events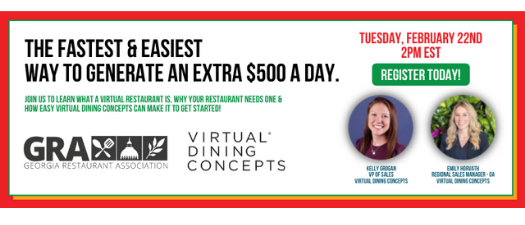 The Fastest & Easiest Way to Generate An Extra $500 A Day!
Tuesday, February 22, 2022
Event Details
Make 2022 the year of revenue by adding an additional $500 a day in profits to your restaurant!
This webinar will walk you through what a virtual restaurant is, why your restaurant needs one & how easy Virtual Dining Concepts can make it to get started! We will have industry experts Kelly Grogan – VP of Sales & Emily Horvath – Regional Sales Manager – Georgia provide deeper insights into this exciting industry trend.
Here's what you will learn:
- What is a virtual restaurant vs. ghost kitchen?
- Why should your restaurant add a delivery-only brand?
- Who is Virtual Dining Concepts?
- Why Nascar Refuel, Steve Harvey's Family Food or Barstool Bites might be a fit for your restaurant?
Not to mention, five lucky attendees will receive a $500 credit to kick-start the process of bringing one of our concepts to their location.
Don't Miss Out – Register Today to Start Generating Revenue Tomorrow!
Tuesday, February 22nd | 2:00PM