Augusta chef's culinary journey took him around the world
Date posted
March 15, 2020
Source: The Augusta Chronicle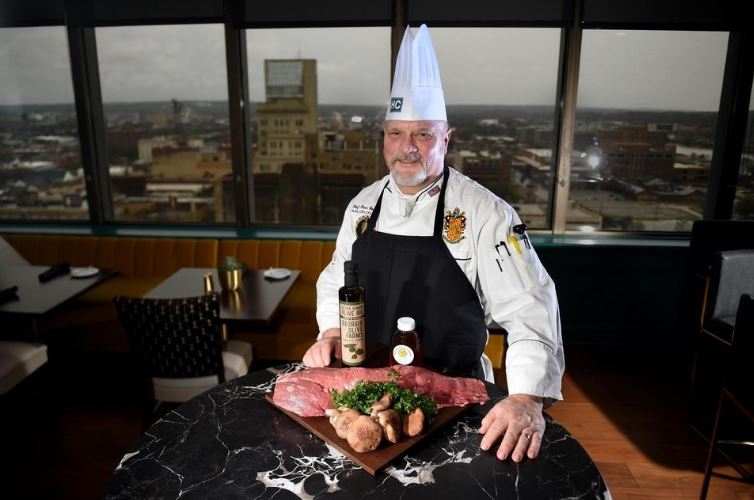 Peter Vossenberg knows exactly who inspired him to become a chef.
"My mother," he said. "Just like most chefs following their mother or their father in the kitchen. Helping mom on Sunday meals was really great."
A 40-plus-year culinary career has led to some great accomplishments for the Chef de Cuisine at the Pinnacle Club in downtown Augusta. He won the American Culinary Federation's Chef Educator of the Year award for the Southeast region in 2018, which his wife also has won, making them the only husband-and-wife pair to win the award.
His latest honor was being one of six chefs in the state named a 2020 Georgia Grown Executive Chef by the state's restaurant association.
The Philadelphia native's career in the kitchen began as a dishwasher when he was 16.
While it wasn't ideal, Vossenberg quickly moved up at the steak and lobster restaurant in King of Prussia, Pa., and within three months he was a prep cook and within six months a line cook. He mastered grilling steaks to the proper temperatures.
"Working the grill on a Friday or Saturday night in a restaurant and not having any steaks come back because of being overcooked or undercooked made you very popular with the management team," he said.
Now he cooks Japanese wagyu beef tenderloin, one of the most expensive beef products in the world. Instead of a grill, he used a cast iron skillet and Georgia-grown extra virgin olive oil to cook the dish for the first time recently.
"Keep the plate simple and let the ingredients speak for themselves," he said. "The ingredients are the stars of the plate, so let them shine."
Vossenberg uses a lot of Georgia-sourced food, such as the olive oil from Lakeland, honey from Augusta, shiitake mushrooms from Ellijay and beef from Southern River Farms. His selection as one of the 2020 Georgia Grown Executive Chefs came because of his use of local products in his cooking.
His love of cooking also played a role in his military service. He served in the Navy from 1979 to 1985,.
During enlistment, Vossenberg qualified physically to be on an underwater demolition team , but he was disqualified from that and other designations in the Navy when he was found to be color-blind. He decided to join as a mess management specialist, also known as a cook.
"I was cooking in high school, so I went in as a cook and saw the world," Vossenberg said. "It was unbelievable all the different flavors and all that I saw, from Asia to Australia and Guam."
Vossenberg served on the aircraft carrier USS America, where he cooked for 5,000. He also enrolled in the Culinary Institute of America and began cooking for captains and higher ranks shortly after they discovered his cooking talent.
After leaving the Navy and graduating from the culinary institute, he worked two years at the Amundsen-Scott South Pole Station in Antarctica. He went on to work as a general manager at restaurant chains and Disney's Epcot theme park, and on private yachts, cruise ships, oil rigs and hotels before moving to Augusta in 2017.
He was in Florida as the director of the hospitality program at Florida Technical College when his wife, Kathleen Vossenberg, was offered the job of director of the culinary program at Helms College.
"Kathleen accepted the job at Helms College and they asked if I would like to interview for the executive chef position for Edgar's Grille and the Snelling Center," he said. "A few weeks later (October 2017), we moved the family to Augusta."
Vossenberg worked at Edgar's until February 2019, when the Edgar's Hospitality group took over managing the Pinnacle Club and asked him to take over operations at the private club. The club is managed by Goodwill Industries of Middle Georgia & the CSRA through Edgar's Hospitality Group.
His culinary journey has been one of constant learning and teaching.
He tried to make Edgar's Grille and now the Pinnacle Club into a classroom for culinary students.
"I would tell the guests, 'Welcome to our classroom.' Students work as servers and they cook as well," Vossenberg said about his time at Edgar's. "It is always nice to see when the students finally have that moment they realize they can actually cook or serve in a high-volume restaurant."
For him, being able to teach the next generation of chefs is priceless.
"I tell my staff and students to be a career learner. Always look for the next degree, certification and advancement. Do not be idle in life," he said. "Through my career in hospitality and as an educator, I have trained over 1,000 students and staff. They have taught me as much as I have taught them. It is an honor to be able to do what I do for the next generation."