Executive Profile: Georgia Restaurant Association CEO Karen Bremer Serves Up Support
Date posted
October 30, 2020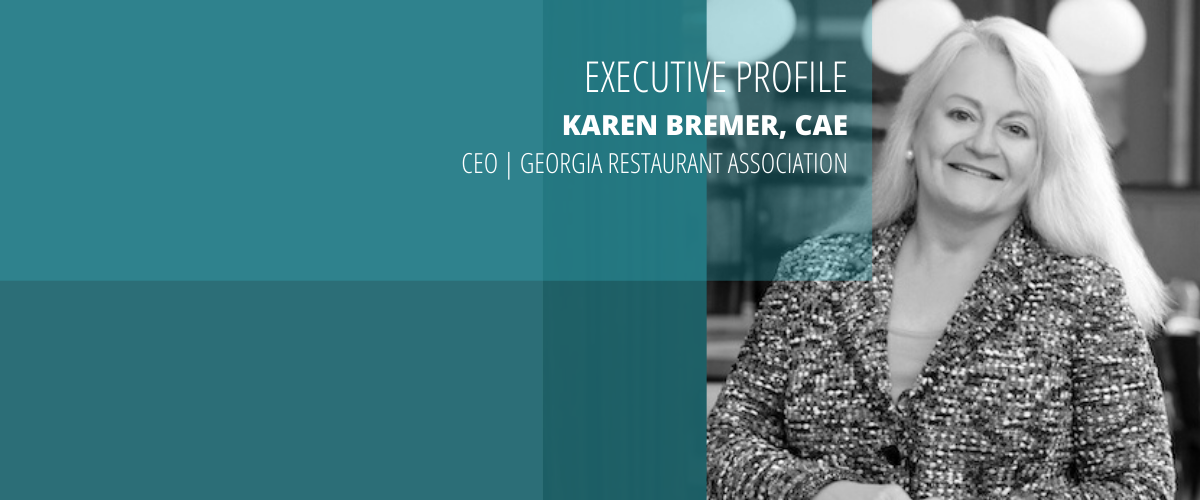 Source: Atlanta Business Chronicle
Karen Bremer might be one of the busiest executives in Georgia this year.
As chief executive officer of the Georgia Restaurant Association, Bremer lobbies the Georgia and United States federal governments on behalf of this state's restaurant industry. During typical times, her job entails pushing for legislation that would bust business eateries, such as a new law that allows them to serve alcohol earlier on Sundays.
Of course, 2020 does not count as typical. The novel coronavirus pandemic has hammered Georgia restaurants, sending sales plummeting, forcing closures and threatening many more. Over the past seven months, Bremer's sole job has been to do everything she can — from advising restaurateurs to pushing for government assistance — to keep the state's industry alive.
What led you to your career? Like many in our industry, my first job was in the restaurant industry, at age 15. I was a checker at an S&S cafeteria and then continued on to waitressing, bartending and supervising. That's when the management bug got me and I realized that I loved to teach people and create a team to achieve great guest satisfaction. Throw a dinner party and get paid for it.
Who was your biggest influence in your career? So many have helped me along the way, but one important stand out is George McKerrow [co-founder and CEO of Ted's Montana Grill]. From his mentorship, I really understood the importance of employee satisfaction and how it relates to guest satisfaction in your restaurant.
What is the biggest challenge in your career or job? Keeping track of the state government, 159 county and 535 city governments and the federal government [as far as] what they are doing and how it affects the restaurant industry and small businesses in general.
What's the most rewarding part of your job? Currently, helping restaurants to stay open
What's the hardest business lesson you've learned? Knowing when business is over and that it's time to close [a restaurant permanently]. Laying off 135 employees was the hardest thing that I ever had to do as business owner. I have so much empathy for what many small business owners are going through right now.
How has your work lobbying for restaurants changed during the pandemic? We have truly served as advisors to the industry and to our elected officers, and have had to come up with creative ideas on how government can help restaurants.
What is the most common advice you give restaurant owners during this difficult time? Keep on eye on the long game. This too shall pass. Keep yourself flexible, as the situation changes every day. But we will survive.
Are there any silver linings for Georgia's restaurant industry as a result of the pandemic? Innovation over the last seven months has been rapid. In normal times, it would have taken years to pivot to touchless payments, QR-code menus, virtual events, Zoom meetings etc.
How will the pandemic change Georgia's restaurant industry in the long term? We will lose many independent restaurants.
How do you relieve stress these days, and how do you keep morale high on your team? My stress reliver is cooking and baking. I make amazing cakes. Our team meets almost daily on Zoom to coordinate our work. We cherish our in-person time together. We still celebrate team birthdays and work anniversaries, and I am making everyone take time off to refresh themselves and refresh their perspectives.