Hank Clark Named Georgia Restaurant Association Chairman of the Board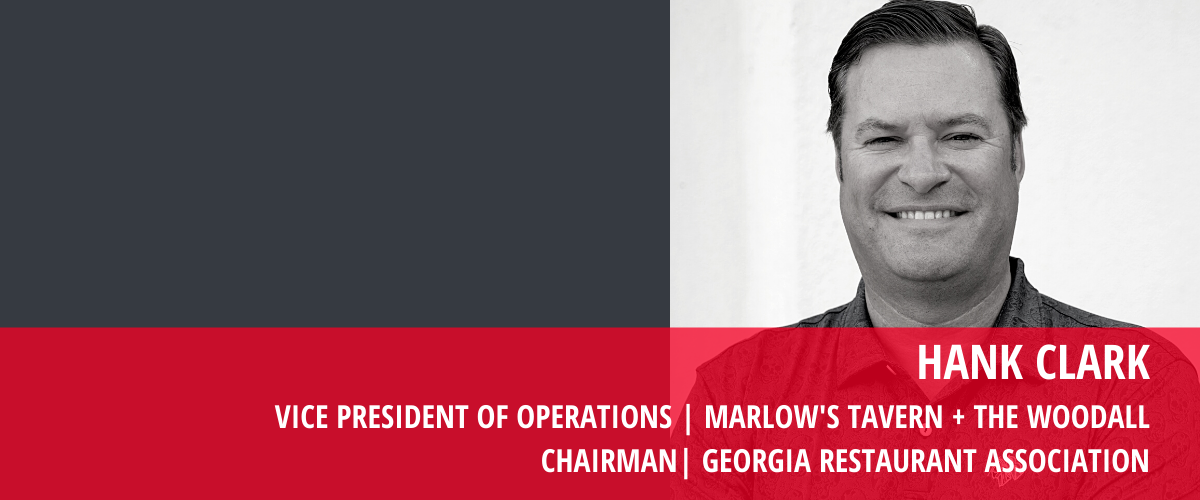 HANK CLARK NAMED GEORGIA RESTAURANT ASSOCIATION'S CHAIRMAN OF THE BOARD
Vice President of Operations at Marlow's Tavern and the Woodall
Will Lead the Organization for a Second Time
ATLANTA (June 7, 2021) -- Hank Clark, vice president of operations at Marlow's Tavern and the Woodall, was recently named chairman of the board of the Georgia Restaurant Association (GRA). Clark previously led as chairman of the board of GRA in 2013 and will help guide the valuable organization as it serves as a unified voice for Georgia's restaurants in advocacy, awareness and education.
"After many months of dramatic changes to the restaurant industry, we are pleased to welcome Hank Clark as the new chairman of the Georgia Restaurant Association board of directors," said GRA president & CEO Karen Bremer. "Hank is a seasoned restaurateur, and we look forward to Hank's leadership in a crucial time as we navigate the new future of restaurants in Georgia."
Clark is an enthusiastic leader who has worked in the restaurant industry for more than 30 years. He helped create Marlow's Tavern in 2004 and has since led the company's growth. At Marlow's Tavern, Clark supervises all day-to-day operations and helps position the company in additional markets. Clark drives the culture of the neighborhood tavern to make it a comfortable place for guests to relax with a great meal. In addition to serving as chairman of the board in 2013, Clark served on GRA's executive committee for three years.
"I am excited to chair this great organization once again, for everything it represents," says Clark. "Our mission in our own restaurants is to create a sense of belonging for guests where they can enjoy the people and food that they love. My vision for GRA is to continue to make a difference in Georgia's restaurants and for those working in the more than 500,000 jobs that our restaurants provide. We want to create an environment where both our guests and employees thrive."
Before Marlow's Tavern and the Woodall, Clark worked for Brinker International in the Grady's division and was promoted to general manager at the age of 23. He served as general manager at Darden Restaurants in the Bahama Breeze division and became the general manager of Aqua blue in 2002 where he met John C. Metz, the executive chef, co-founder and CEO of Marlow's Tavern and the Woodall.
About Marlow's Tavern
Marlow's Tavern was established in 2004 with the opening of its first location in Alpharetta, Georgia, and has continued to grow over the years, adding many Atlanta-area restaurants, as well as locations throughout Orlando and Tampa, Florida. John C. Metz, executive chef, CEO and co-founder of Marlow's Tavern, was named an "Atlanta Most Admired CEO" by Atlanta Business Chronicle in 2020. In 2018, the Georgia Restaurant Association named Marlow's Tavern one of the Restaurant Neighbor Award winners. Each neighborhood restaurant is open for lunch and dinner daily, offering guests classic American tavern fare with an upscale twist. For more information and location addresses, visit marlowstavern.com.
About the Woodall
Located in the Westside Village at Moores Mill mixed-use development, the Woodall serves dinner daily at 4 p.m. and brunch on Saturday and Sunday from 10:30 a.m.-2:30 p.m. In addition to dine-in service, the Woodall's brunch, lunch and dinner menus are available for delivery on DoorDash. View menus and make reservations online.
About Georgia Restaurant Association
Since 1906, the GRA has served as a unified voice for Georgia's many eating and drinking establishments, from chains to independent single-location restaurants. The GRA helps make Georgia a better place for restaurants and helps make restaurants better for Georgia by providing informative and educational resources for success. Most recently during the COVID-19 pandemic, the GRA distributed the latest information on the governor's orders, gave guidance on reopening safely and partnered with organizations to help Georgia restaurants navigate through unchartered waters.
###