Expanding Dining Outside: Five Tips to Think About This Spring
Date posted
February 7, 2023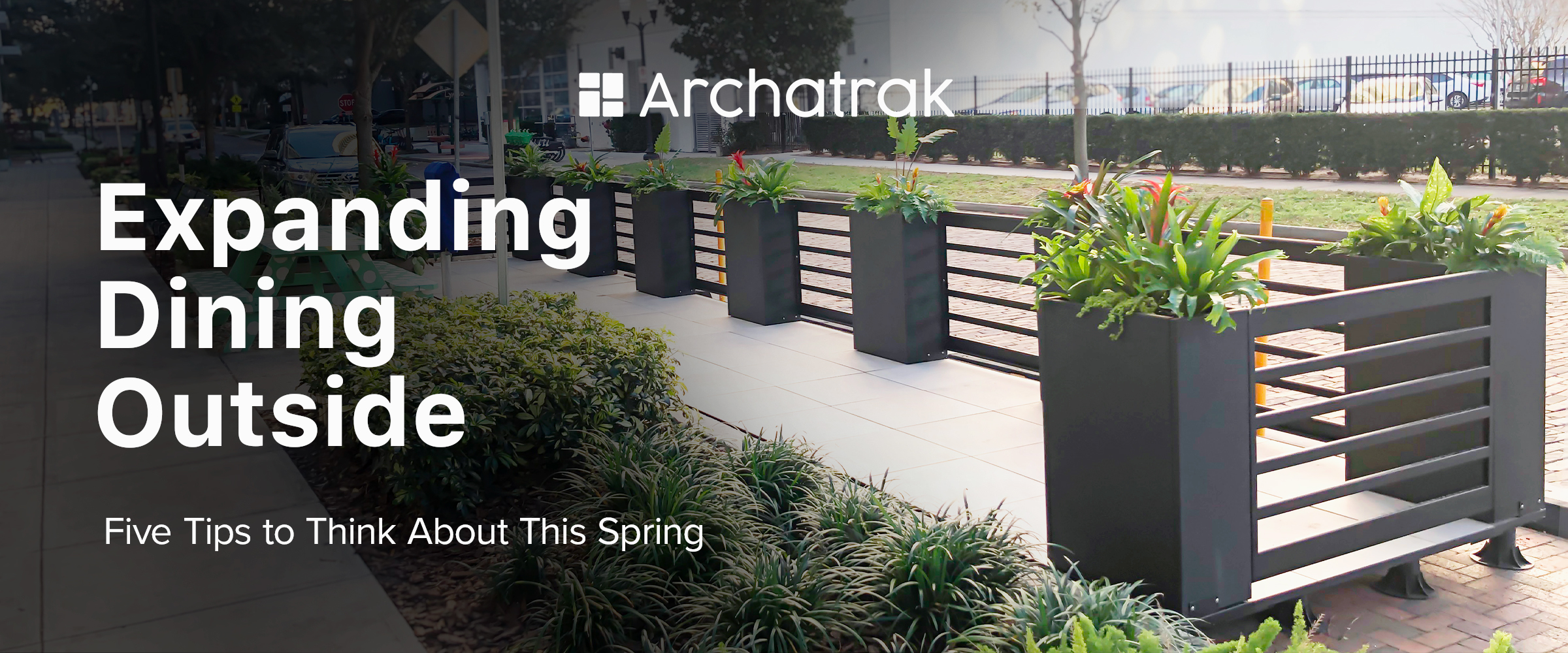 Expanding Dining Outside: Five Tips to Think About This Spring
If you look online for a way to expand your restaurant seating outdoors, you may find references to regulations that seemingly discourage DIY parklet or curbside deck aspirations. City standards for street decking have progressed since the particle board parklet heyday of 2020, when just about any slapped-together structure could occupy space along the sidewalk. Fortunately, the constant push and pull between the growing demand for permanent parklets and city operational considerations has brought about some incredibly innovative products and solutions that might surprise you.
Instead of viewing these new deck regulations as an obstacle, how can we as restaurant owners shift our mindset, educate ourselves on our community's needs and embrace the opportunity to create something greater than we might have imagined before? Here are 5 tips for approaching curbside al fresco dining expansions in 2023 presented by Archatrak Inc.'s resident StreetDeck parklet expert, Janice H. Dobson.
#1 Keep it simple.
Why hire an expensive architect to design your deck when you could order a kit that includes almost everything you'll need to keep your guests and city officials happy? You can still add an impactful personal touch to these decks with amenities like furniture and planters. In contrast, custom-designed decks can take a financial toll on restaurant owners, not just initially but also many months down the road when the deck is taken apart for mandatory street cleaning. To avoid this, we recommend searching for a kit with sturdy components that can be disassembled and reassembled repeatedly.
#2 Compare substructures.
Not all decks are created equal. Prefabricated and modular parklet systems have become popular not just because of their looks but because of the ingenuity of the substructure components. When researching your kit, you'll read about adjustable height paver supports. These polyethylene components are designed to support deck pavers and create a perfectly level surface, no matter how uneven the ground is on site. This system makes it simple to match the height of the deck with the sidewalk edge and ensures that your deck will be ADA-compliant.
Using these supports, your deck will automatically meet one of the most often overlooked requirements city officials generally factor in during the parklet approval process: water flow. Streets are intentionally sloped to direct stormwater into gutters and it's important to make sure your deck does not impede this. Another benefit of kits with adjustable height supports is the ability to lift a paver and remove any debris trapped below the surface of the deck quickly and easily.
#3 Roll with low-maintenance materials.
You know how messy a restaurant floor can get. The floor inside a restaurant must withstand constant foot traffic, endure food and beverage spills and be stylish enough to suit the ambiance of the restaurant itself. Outdoor deck flooring is much the same, except being outside adds a whole new layer to your list of considerations. Porcelain pavers, thick porcelain floor tiles typically used for rooftop decks and landscape designs, are fantastic for outdoor dining parklets. Made of extremely dense porcelain, these pavers are essentially nonporous and exceptionally resistant to staining, even from grease and oil spills. They will not warp, fade or wear like wood or composite wood and there's an incredible variety of styles and colors to choose from. With the other parklet components like railings and planters, powder-coated galvanized steel is a good choice because it's durable and easy to wipe clean too.
#4 Consider your guest's safety.
Some modular curbside deck kits may include a 3-sided barrier made from galvanized-steel railings and connected planters. These elements help to clearly divide the dining space from vehicular traffic flows. Added safety precautions like traffic cones, barriers, bollards and reflective lights may be required by your city and they will be able to advise you on how to set these up before opening your new parklet. If your city parklet guidelines permit custom railing colors, perhaps requesting a bright powder-coat color from the parklet kit manufacturer or hiring a local artist to paint the deck with an attention-grabbing mural would be a smart idea.
#5 Think long-term.
Despite the initial speculation that parklets were a passing fad, they've become an irreplaceable asset for communities and businesses all over the country. City officials now understand that parklets are here to stay and are working to balance the needs of both profiting business owners and other community members who benefit from them. While regulations concerning roadside parklets have changed significantly over the past three years, it is reasonable to assume that parklet policies will continue to evolve. Determining which parklet kit on the market will be the most cost-effective for your business and still comply with all local regulations, will almost certainly require a phone conversation with your city officials to ascertain if, or how, parklet protocols could change in the foreseeable future.
If you have any questions about parklets or want like to learn more about how a StreetDeck kit can help enliven your restaurant's street scene, Janice can be reached via email at janice@archatrak.com or via phone at (406)551-4098.