How to design the optimal system landscape
Date posted
October 10, 2019
By
Shelly Bitter
, Software Consulting Manager at
Moore Colson
CPAs and Advisors
Sometimes, you want your eggs in one basket. When it comes to software, one package that can meet all your functional needs would be ideal. Unfortunately, in the
hospitality industry
, there is no single solution. From an accounting perspective, all your debits and credits should be in order, but the software that does the accounting usually isn't very good at taking online reservations. And the best solution for banquet management may not manage human resources. And the time clock probably doesn't take a picture of an invoice and turn it into a bill for accounts payable. That's why it is important to take the time and evaluate your software options. Let's examine one proven approach that brings clarity to what you need, what you don't need, and how it works together to give you a full picture of your business.
The System Landscape Approach
If you are a restaurant, banquet facility, entertainment venue or some combination, you are probably running more than one software solution. If you're lucky, some of them are talking to each other. Regardless of the tools, the full picture of all the software and integrations is the System Landscape. The System Landscape encompasses all software solutions and how they communicate with each other to create a homogeneous environment. The System Landscape may include on-premises software and cloud-based platforms. There may be automated integrations or manual processes that allow these systems to share information.
​
The picture below helps identifies many of the functions that may be addressed in a System Landscape. Color coding at this stage is optional if you are not entirely sure which functions go together just yet. You can whiteboard this or, even better, write these functions on sticky notes to move around later.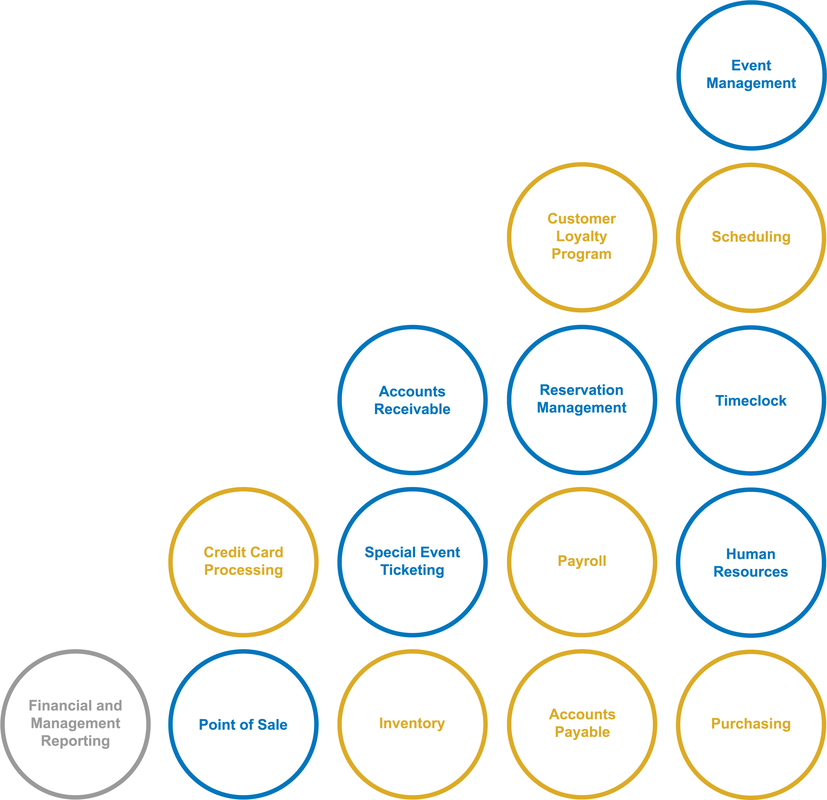 The Step-by-Step Guide to the System Landscape Exercise

Now that you have identified the main components to the landscape, here is what you do next:

Step #1: Remove the functions that don't apply
For example, if you don't take reservations, remove that function. Again, putting each of the remaining functions on sticky notes can help with the visualization.

Step #2: Add any missing functions
Maybe your facility has games, and you need a game card management system. Add sticky notes for any additional function to include in the landscape.

Step #3: Group functions
Group the functions that are handled in the same software solution or manual process.
​
Step #4: Connect the dots
How do these solutions communicate? Is data transferred via an automated integration? Is information entered manually?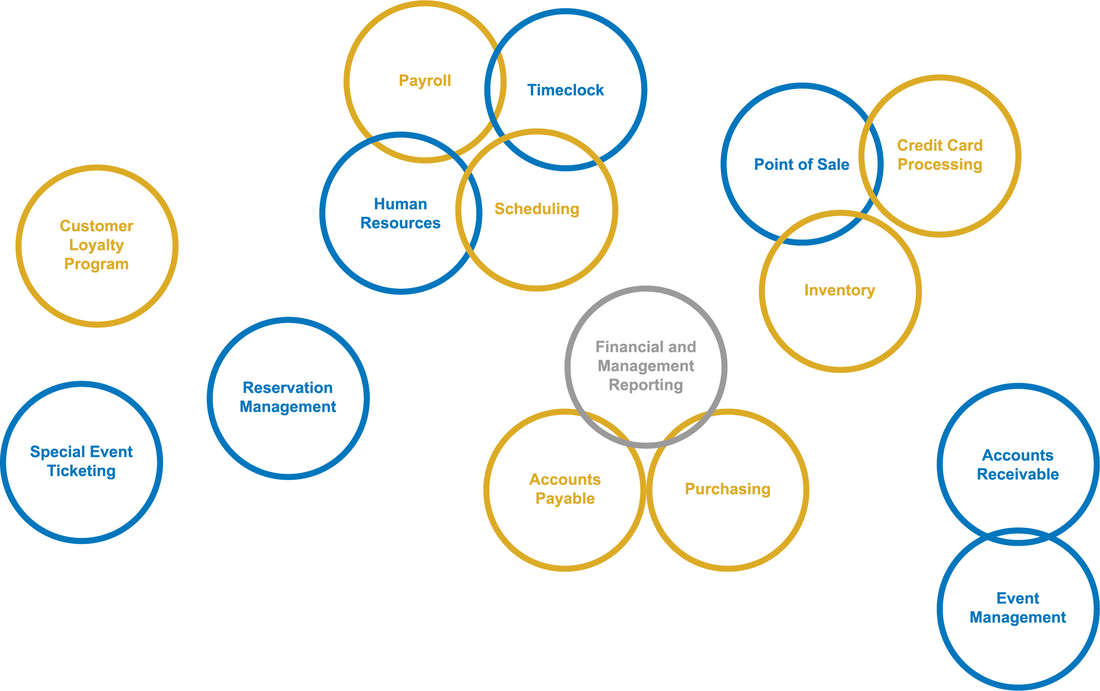 For extra credit, you may want to draw the picture of how you would like this picture to look. Could you replace a manual process with a software solution? Could an integration be automated? There may be many opportunities to leverage technology and improve the landscape.
The purpose of the exercise is to identify opportunities for improvement. Technology can also improve the customer experience. Customer expectations are rising. Customer loyalty programs and online reservations are often the norm, but they can be burdensome. Looking at the bigger picture and finding the right software mix will enhance guest relationships, improve the efficiency of staff and increase the accuracy of information. It creates a platform for future growth and scalability.
Bottom Line
While carrying out this exercise – and then taking action – will take your business to the next level, this process can be challenging and time consuming. If you need help, you can reach out to trusted
software selection advisors
who are experienced in understanding the processes and technology in the hospitality industry.