RO Hospitality announces "Table & Aid," a community relief effort supporting the newly food insecure
Table & Aid offers hot meals to those who find themselves in need due to the current crisis. Guests are welcome to ask for 1-6 meals at no charge, no questions asked, depending upon the size of their family or situation. Meals include a protein, starch & vegetable. Guests can select other necessities – including fruit cups, canned goods, and commodities such as flour, etc - from a "General Store" as supplies allow. Table & Main is located at 1028 Canton Street, Roswell, GA 30075.
Table & Aid has distributed 1,851 meals since the program started on Tue-Mar-24, averaging 154 meals daily.
"When the crisis hit, we combined all three of our restaurants into one curbside and delivery operation from Osteria Mattone. That meant Table & Main was available as a resource. We've had some success with the takeout program, and our community has been tremendously generous with donations to help Table & Aid get started. This is one small way we wanted to give back to our friends and neighbors, particularly those hit hardest by the pandemic." -Ryan Pernice, RO Hospitality Owner-Operator
We have been grateful to receive support from our community and vendors, particularly Horizon Food Brokers, US Foods, and Sysco. But we see the need growing as time goes on. Please consider a donation if you are able. Cash and checks (made out to Table & Main) are accepted at Table & Main. You can also Venmo Ryan Pernice directly at "Ryan-Pernice" on the app. We are particularly in need of large, hinged "clam shell" to go containers, with or without dividers, to continue this effort.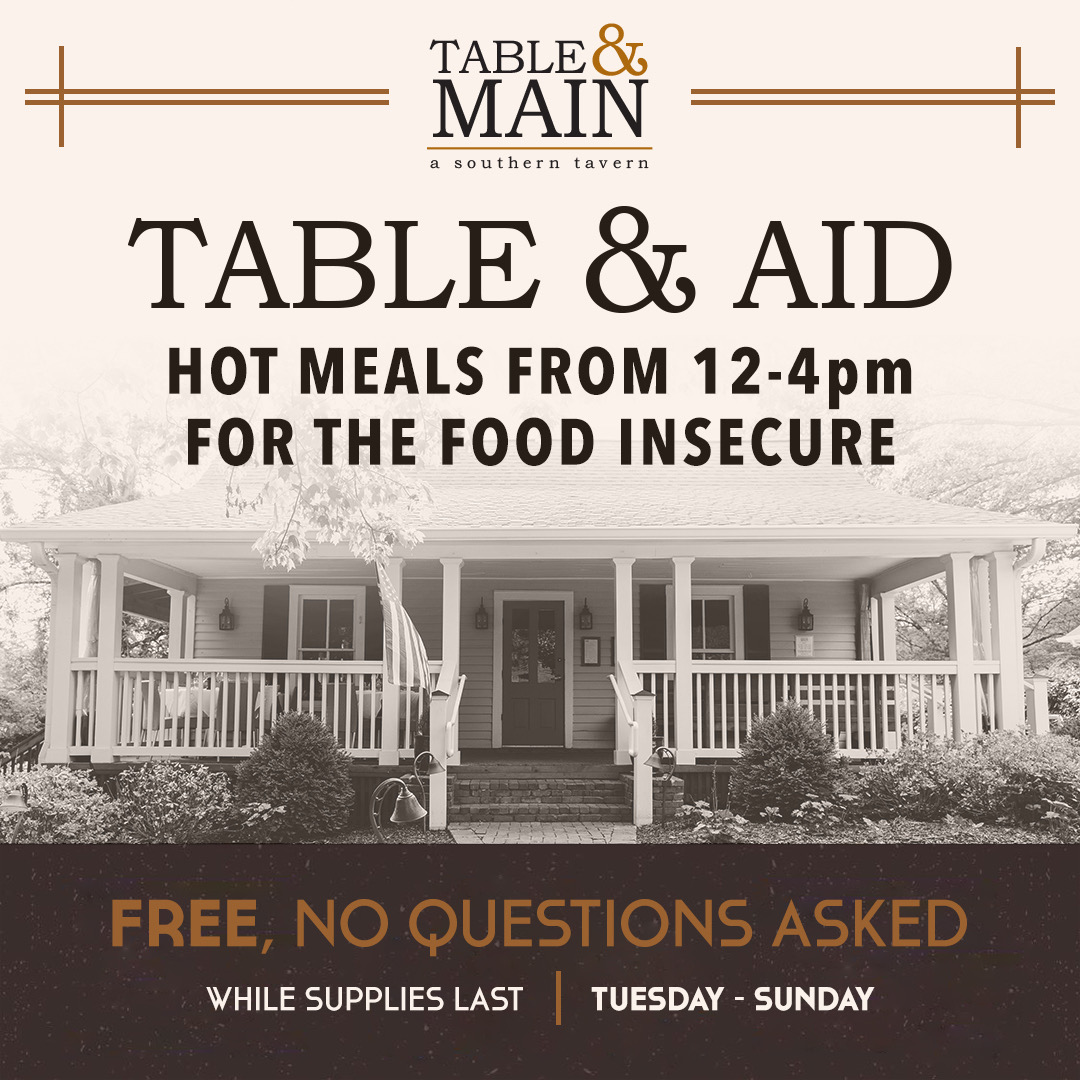 ABOUT RO HOSPITALITY
Founded by Ryan Pernice, RO Hospitality is a full-service restaurant management company currently operating three restaurants across North Fulton. ROH opened its first restaurant, Table & Main, in Roswell, GA in 2011 with a clear, confident vision of becoming the neighborhood's adopted clubhouse. We're proud of our progress towards achieving that goal, being tremendously fortunate to work with amazing people as we hone our community focus at two additional concepts: Osteria Mattone and Coalition Food and Beverage. Our team relies on five major characteristics to nurture the tradition of excellent hospitality our restaurants represent: Warmth, Optimism, Ownership, Conviction, and Loyalty. With those key traits uplifting our Cuisine, Service & Story, we will create such positive experiences for our guests that they will seek to make us a part of their daily lives. For more information on RO Hospitality, please visit ROHospitality.com.