Three Tactics to Recruit the Next Generation of Hospitality Professionals
Date posted
September 21, 2023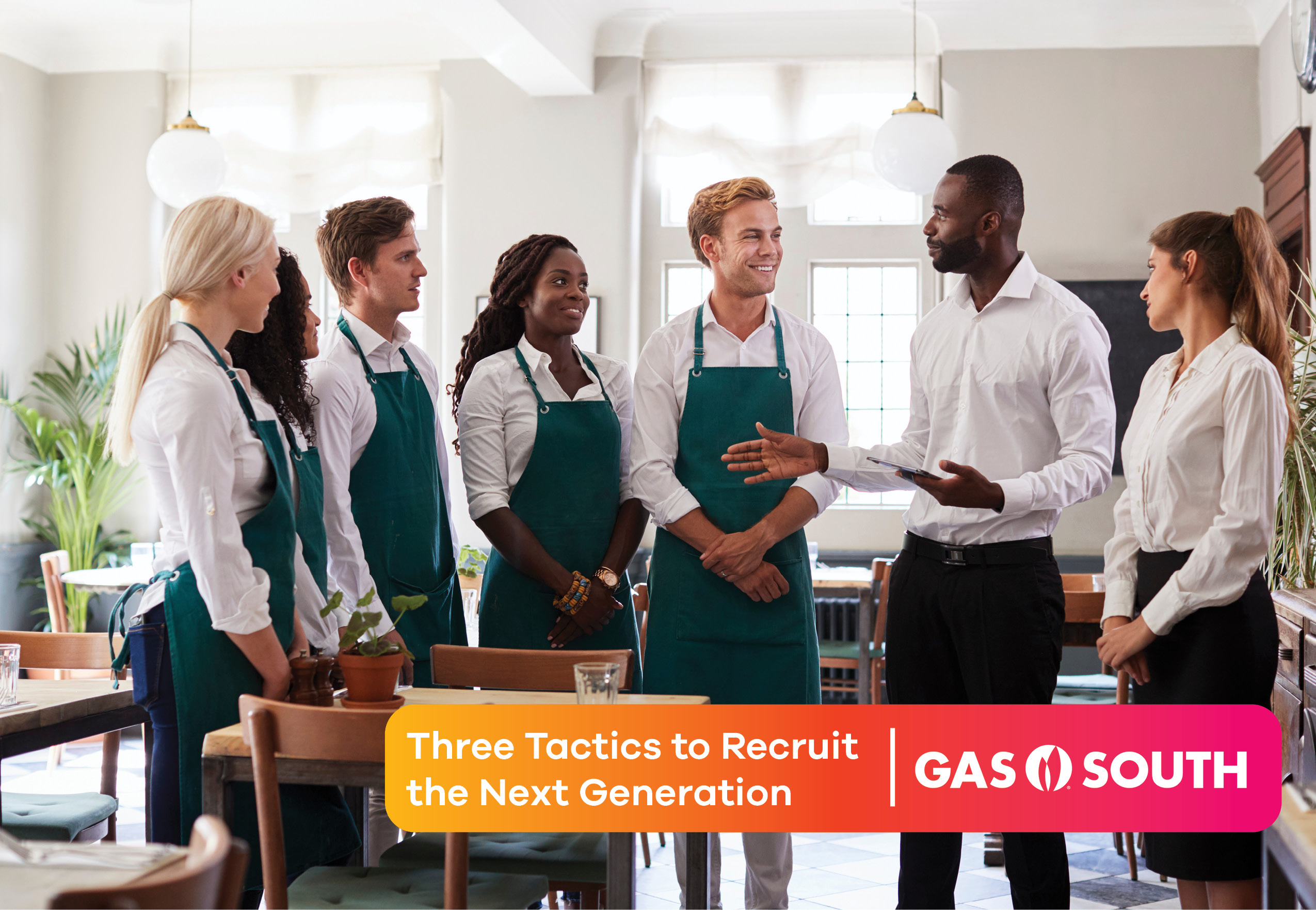 Three Tactics to Recruit the Next Generation of Hospitality Professionals
By: Stacy Paez, Chief Legal and People Officer at Gas South
The demand for skilled and efficient employees is currently at an all-time high, especially in the hospitality industry. The U.S. Bureau of Labor has reported more than 9.6 million unfilled positions in all sectors nationwide, a substantial increase from the pre-pandemic record of 7.6 million. When recruiting in today's tight job market, hospitality and food service businesses must remain nimble and willing to adapt as the needs and desires of employees change.
Luckily, there are strategic and intentional approaches to attracting emerging talent. By investing in the development of future professionals, fostering an inclusive and diverse work environment, and providing scholarships to prospective students, restaurants can significantly enhance the recruitment and retention of the next generation of hospitality professionals.
Investing in Aspiring Professionals
Investing in aspiring professionals helps attract qualified employees and strengthens the internal talent pipeline. When potential candidates observe that an organization is dedicated to employee development, whether they are a server, cleaning staff, or in management or accounting, they recognize that the company is more likely to value their professional and personal growth. According to Robert Half Workplace Research, 64% of Generation Z respondents ranked "opportunity for career growth" in their top three job priorities, the most commonly cited of all options.
While some companies may be hesitant to allocate resources for professional development and fail to recognize the value of providing a path for development, the investment will pay off in the long run, even if returns are not immediate. Having a strong employee development program can help create an engaging culture, attract motivated employees, increase retention, boost productivity and, thereby, profits.
Gas South, for example, provides an eight-month, structured, mentorship program that helps us develop our employees and connect with each other in our hybrid work environment. This is especially helpful to our young professionals, who can shadow middle to upper management.
Another way we're aiming to effectively connect with aspiring professionals is through our co-op program in partnership with Georgia Tech. Launched by Georgia Tech, the Undergraduate Co-op is an accredited academic program in which students alternate semesters of full-time study and full-time paid work with the same employer. This co-op allows students to gain at least a year's worth of valuable work experience in the hospitality industry and gives employers the opportunity to build a relationship with prospective employees.
Creating an Inclusive Workplace Environment
Young professionals have a strong desire to work for companies that have a proven track record of Diversity, Equity and Inclusion (DEI). When professional organizations cultivate an inclusive experience for all employees within their company and community, they often witness significant positive changes in their overall culture and recruiting efforts.
Employee data overwhelmingly demonstrates that DEI is a crucial factor in a company's ability to recruit and retain employees. According to Benevity's 2023 State of Workplace DEI Report, 95% of employees consider a prospective employer's DEI efforts when deciding between job offers with similar salaries and benefits. Moreover, 87% of employees feel more loyal to a company that prioritizes DEI.
Gas South has made deliberate efforts to source candidates from a diverse pool by adopting a long-term strategy for building strategic relationships with diverse professional groups and colleges and universities. For example, the DEI team prioritizes fostering relationships with local HBCUs (Historically Black Colleges and Universities) to ensure an equal playing field early in the recruitment process.
To create an inclusive workplace, it is important for companies to listen to their employees and empower them to voice their needs. One way that we help empower employees to voice these needs is by introducing several Employee Resource Groups or ERGs that help provide safe spaces for different communities at Gas South to share their voices.
Providing Scholarships
Organizations continually seek innovative ways to attract the best new talent, and one highly effective strategy is to support students through scholarships even before they embark on their professional careers. Supporting students in their pursuit of higher education is not only a gesture of goodwill but also helps businesses cultivate their future workforce.
Students are being squeezed by rising education costs. According to the National Center for Education Statistics, the cost of tuition, fees and board at public colleges and universities rose by 28% from the 2008-2009 school year to the 2018-2019 school year. By alleviating these financial burdens for students through scholarship programs, companies can build positive brand relationships before they even enter the workforce.
Furthermore, funding scholarships is an investment in both an individual company and the hospitality industry as a whole. Providing scholarships to students can help them gain skills in management and operations, customer service, or information technology, and is a tremendous tool for creating more qualified and passionate future employees.
In July 2022, Gas South, in partnership with Arglass, presented a $20,000 donation for full-time students attending Wiregrass Georgia Technical College. Wiregrass is using the funds to award $1,000 scholarships to deserving students in the industrial systems technology program throughout the next 20 semesters. The scholarships go towards covering general expenses, such as tuition, books and fees for students.
In Summary
Hospitality and food service companies striving to attract the next generation of top talent must prioritize and invest in initiatives and programs that young professionals value. Addressing their needs in the workplace will lead to positive returns in recruitment and retention efforts, especially as the industry continues to lose employees. Tactics that prioritize career development, inclusivity and alleviating the financial pressures of securing an education are sure-fire ways to attract the best and most dedicated employees.
Stacy Paez is the Chief Legal and People Officer for Atlanta-based Gas South, the largest retail natural gas provider in the Southeast. Previously, Paez served as General Counsel and the VP of Legal and HR at Infinite Energy.