Five Tips for Hiring Seasonal Employees
Date posted
November 30, 2021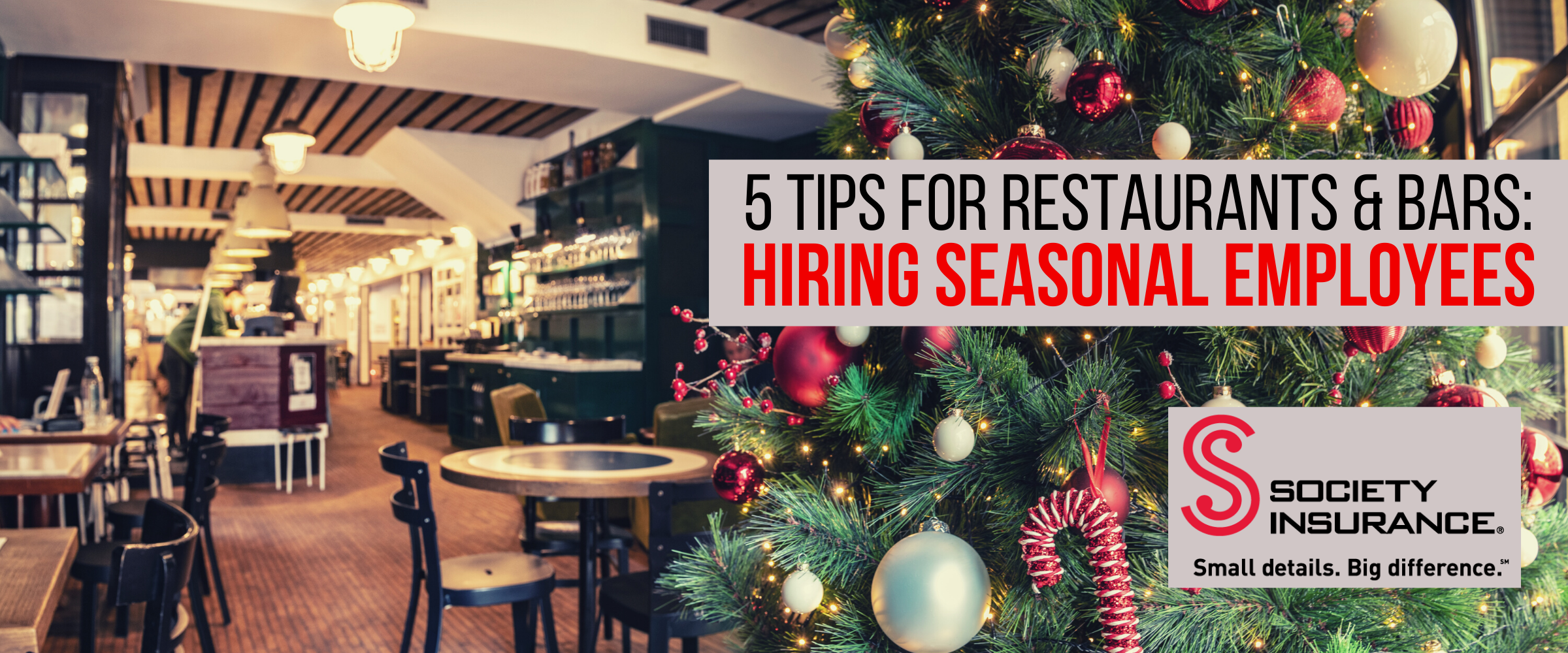 As business picks up during the holiday season, restaurant and bar owners may need to hire additional employees to keep up with customer demands. There are many ways to attract qualified applicants during this merry time of year. Here are five tips for hiring seasonal employees:
Partner with a Staffing Agency. Staffing agencies help to find talent quickly and efficiently. They take the pressure off the employer and do the heavy lifting needed to conduct interviews and find the specialized pool of applicants based on the business owner's needs. Whether looking for full-time, temporary or temp-to-hire employees, a staffing agency will make sure businesses get the desired outcome.
Set Clear Expectations. It is important to give as many details about the position as possible. Things to keep in mind are the duration of the job, skills needed and salary.
Focus Efforts on Students or Retirees. Seasonal employees tend to be either students or retirees due to their specific availability. Students are given breaks during the year when they may be looking to make extra money, and retirees may want supplemental income for hobbies or vacations. These types of employees also may come back the following season, making it easier for the company in the future.
Start Looking Far in Advance. By looking for candidates as soon as business owners know they need them, they will be able to find more qualified applicants who started their searches earlier than others. Also, it is important to exhaust free resources before reaching out to a staffing agency, such as advertising on local job boards, social media and contacting schools.
Know Seasonal Employment Liabilities. Employing seasonal workers may come with liabilities. It is important to read up on state labor laws to see if they apply and make sure to confirm those regulations before the hiring process. Employers should acknowledge the duration of employment during interviews and ask the employee to sign a formal offer letter before the start date.
Businesses may have different needs than last season so it is important to reevaluate where help is needed each year. Learn more business best practices by visiting societyinsurance.com/georgia.
This information is provided as a convenience for informational purposes only. This information does not constitute legal or professional advice. It is provided to assist you in recognizing potential unsafe work problems or conditions and not to establish compliance with any law, rule or regulation.
Society Insurance is recognized throughout the industry as a leader in providing superior restaurant and bar insurance custom-tailored to fit the unique needs of each operation. To learn more, visit societyinsurance.com/georgia.